Mould Remediation Services

Ottawa Mould Removal Services
Ottawa Extreme Clean offers expert Mould Removal and Remediation Services. Our team is experienced in a variety of Mould Situations, this includes after a flood, or sewer backup. We also remediate grow-op properties as well.
If you have a flood or water damage situation, we recommend you call us right away to minimize the damage and mould growth. The Key is to get the home dry as quick as possible.
Our goal in every Mould situation is to ensure the safety and well-being of all of the occupants. Our Service is available 7 days a week.
Dangers of Mould in Your Home
Mould growth, aka microbial growth generally occurs with the elevation of moisture in an indoor environment where common building materials are present. High humidity or water damage, if present for periods of 24 to 48 hours can and will promote the growth of mould spores. While mould spores are always present indoors, they are usually at acceptable levels.

Most types of  mould release spores into the air and can cause a variety of respiratory illnesses as well as other health issues.  Mould can cause nasal stuffiness, throat irritation, coughing or wheezing, eye irritation, or, in some cases, skin irritation.
People with mould allergies may have more severe reactions. Immune-compromised people and people with chronic lung illnesses, such as obstructive lung disease, may get serious infections in their lungs when they are exposed to mold. Children and infants are also prone to the effects of Mould as well.

The Process and Protocols We Use
Our starts with a full inspection of your home. This will include structural inspection, moisture readings, preliminary tests of suspected mould. If it is suspected that there is an elevated mould count, we would likely recommend an indoor air quality test. We use a 3rd party test with an air quality hygienist to maintain integrity of the results. Once it's established that there is elevated mould counts, the remediation would commence based on the protocol set out by the hygienist.
Our Team would isolated the area's deemed contaminated to prevent the mould spores. The decontamination and removal of the affected materials would happen afterwards. We would also completely clean the area by way of HEPA Vacuuming, use of Negative Air Pressure, Antimicrobials, as well as remediating the cause of the mould and sealing the structural materials affected with a sealer to prevent further mould grown or re-occurrence.
It would be recommended following the remediation to have a follow up air quality test for safety clearance. Especially if the counts were excessively high to begin with.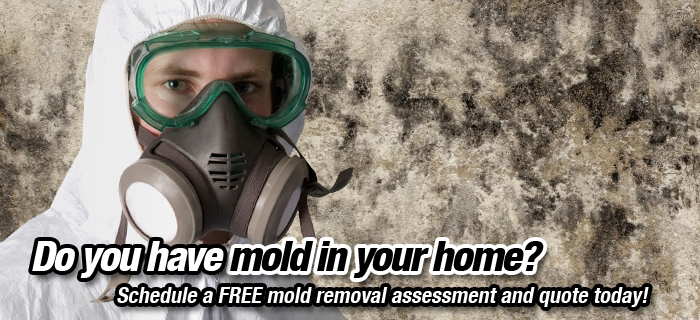 Book Your Mould Inspection Now!
To book a mould inspection and remediation, please call us at 613-366-8417 or click on the button below to have team contact you.